Barn Stall Owner #1776
NCM Supporter '11,'12,'13,'14,'15,'16,'17,'19,'20
Bantayan Kids '13,'17

Points: 59,794, Level: 100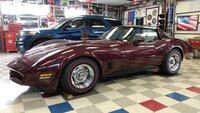 Join Date: Apr 2011
Location: DelMarVa
Posts: 11,797
Thanks: 3,879
Thanked 9,792 Times in 3,115 Posts
Gameroom Barn Bucks
: $2002001541

I Think I Found The Look......
---
.......I was looking for. Even though the chrome wheels are nice, just needed a change. The more I see it, the more I like it. Sunday looks like a decent mild day here, going on a run.

Tried to incorporate the small red features of the car to compliment the red line tires, it's just enough, subtle.

My big job for tomorrow, will flat black the wheel weights.
__________________
CnC JCS USA USN USMC USCG USAF USSF USAR USNR USMCR USCGR USAFR ARNG ANG USPHS NOAA USMM AUS CSA Police/Fire/EMS/EMT
Thank You For Your Service