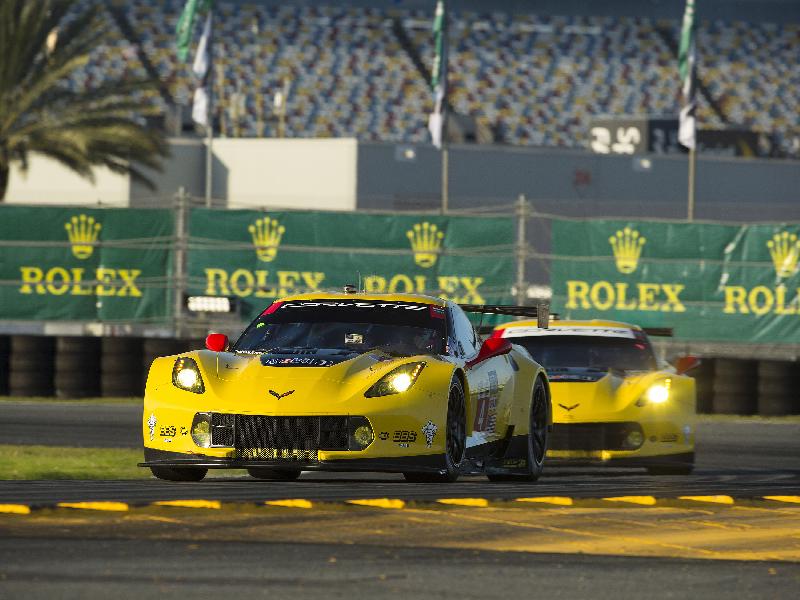 Press Release:
CORVETTE RACING AT DAYTONA: GTLM Pole Position for Gavin, Corvette C7.R
First pole position for Corvette Racing at Daytona since 2000; Barbosa fourth in Prototype
· Gavin, Magnussen team up for pole position in first TUDOR Championship race of 2015
· Both Corvette C7.Rs in GT Le Mans class top five
· Defending winner Action Express Racing leads Corvette DP contingent
DAYTONA BEACH, Fla. (Jan. 22, 2015) – For the first time in 15 years, Corvette Racing will start the Rolex 24 At Daytona from pole position. Oliver Gavin was the fastest qualifier in the GT Le Mans (GTLM) class for the TUDOR United SportsCar Championship in the No. 4 Chevrolet Corvette C7.R on Thursday at Daytona International Speedway.
Gavin turned a best lap of 1:43.488 (123.840 mph) in the Corvette C7.R that he will share this weekend with Tommy Milner and Simon Pagenaud. Gavin is the first Corvette Racing driver since Ron Fellows in 2000 to earn fastest-qualifier honors at the Rolex 24. He was 0.342 seconds quicker than the next fastest qualifier as the second season for the Corvette C7.R got off to a roaring start.
"We have a year under our belts with this car, so we know what we need to do with it to be a bit better," Gavin said. "We're optimistic for the race. It's 24 hours - a long one that's brutally hard. The cold will play a big factor into it, plus how the traffic works. There is a huge load of ramifications here. We're pleased to be on pole. I'm delighted for everyone at Team Chevy and Corvette Racing."
Jan Magnussen, driving with Antonio Garcia and Ryan Briscoe in the No. 3 Corvette C7.R, qualified fifth in class and was instrumental in Gavin's pole position. Gavin was able to draft off Magnussen on the oval part of the circuit in the opening half of the 15-minute session. The two cars switched positions for the final three laps, and Magnussen's best lap of 1:43.976 (123.259 mph) was his last time around.
The No. 4 Corvette was a force in its 2014 debut race at Daytona and led the race into the final three hours before a mechanical malady forced a lengthy stop. Corvette Racing tested twice in late 2014 before returning to Daytona two weeks ago for the annual Roar Before the 24. The Corvette C7.Rs – based on the road-going 2015 Chevrolet Corvette Z06 – were third- and sixth-quickest in the three-day test.
Barbosa Quickest of Corvette DPs for Action Express Racing
Action Express Racing's No. 5 Corvette Daytona Prototype qualified fourth in the TUDOR Championship's Prototype class as the trio of Joao Barbosa, Christian Fittipaldi and Sebastien Bourdais seeks a second straight victory at the Rolex 24. Barbosa's best time in qualifying Thursday was a 1:39.568 (128.716 mph).
If qualifying is any indication, the Prototype race should be tight as the seven fastest cars were within 0.694 seconds. Ricky Taylor qualified seventh for Wayne Taylor Racing with a 1:39.888 (128.304 mph) in the No. 10 Corvette DP.
All Corvette DP cars in the 2015 TUDOR Championship will run with updated Chevrolet bodywork that reflects the Corvette C7 production line.
The 2015 TUDOR United Sports Car Championship begins with the 53rd Rolex 24 at Daytona from Jan. 24-25 at Daytona International Speedway. Coverage will alternate between FOX Network, FOX Sports 1, FOX Sports 2 and IMSA.com. Flag-to-flag radio coverage will be available via IMSA Radio.
GTLM QUOTES
OLIVER GAVIN, NO. 4 CHEVROLET CORVETTE C7.R
"We're now a year in with the Chevrolet Corvette C7.R. The guys at Corvette Racing have done a fantastic job. I have to thank Jan a lot; he towed me around a lot on that lap and helped me get this pole position so I have to thank him for that. I tried to repay him for that by towing him around for a few laps. I just had a little bit of extra straight-line speed. I'm really thrilled to start 2015 with a bang and pole position.
"We didn't think we had the overall pace to get pole. I think it was just a perfect qualifying session. I went out just behind Jan, and everything seemed to sync into place – the tire pressures, the temperatures. I think our car was a little bit better that Jan's and just chipped away at it. But without the tow from Jan, I don't think we would have had pole. It was a great bit of teamwork. From the session before, we had taken some bits and pieces from what the other car had found, some bits and pieces from what we had been working on. We trimmed the car out a little bit more and it felt really good. That's giving us good confidence for the race."
JAN MAGNUSSEN, NO. 3 CHEVROLET CORVETTE C7.R
"We ran into a little bit of trouble with the setup. It wasn't what we had expected. It's nice we could work together and get the best out of it that we could. It was a fantastic lap from Oliver. We didn't quite have what it took to be further up the front but we have another couple of sessions to work a little on the setup. We have a pretty good idea of what to do; we just went the wrong way. It's a long race. If we can improve it just a little bit and make it a little more comfortable, we'll have a really, really good race car."
DOUG FEHAN, CORVETTE RACING PROGRAM MANAGER
"What we saw today was a culmination of three years of hard work - a year spent testing, a year spent racing and now entering the third year of development and second year of racing for the Chevrolet Corvette C7.R. Even more important than the development of the car was the demonstration of the teamwork between the No. 3 Corvette and No. 4 Corvette. Jan gave Olly the tow, and that's what allowed him to achieve that pole position. That speaks volumes about how tightly and closely this team works. I couldn't be more proud."
DOUG LOUTH, CORVETTE RACING TECHNICAL DIRECTOR
"We are really happy with our driver team. The way Jan and Oliver worked together in qualifying was magic. It's not that often you get guys in different cars willing to do that, but we have one of the best six-driver teams in endurance racing."
CORVETTE DP QUOTES
JOAO BARBOSA, NO. 5 ACTION EXPRESS RACING CORVETTE DP
"I think we had the best possible qualifying. From this morning, we made a good improvement to this afternoon for qualifying. The car was running good. More important than qualifying, I think, we have a really good race car that can run for a long time. The crew has been doing a tremendous job. They know what it takes to take our car to the finish line, so that is what we need to keep doing so we can give the other guys a hard time. We are hoping that the race is going to come our way. So far it is looking pretty decent."
RICKY TAYLOR, NO. 10 WAYNE TAYLOR RACING CORVETTE DP
"That was a long 15-minute qualifying session. I was worried at the beginning that we were going to have traffic but it turned out to not be an issue. We've been struggling with the car for some reason today compared to the (Roar Before the 24) test. And then, unfortunately, our traction control stopped working during that run, which made things more difficult. I don't think it's anything we can't fix for the race. I think we'll be OK. Especially when it cools down for the race, we'll be OK. We've just got to figure out this traction control issue."
53rd Rolex 24 At Daytona (all times ET)
TUDOR Practice 4: 11:25 a.m., Friday, Jan. 23
Race: 2:10 p.m., Saturday, Jan. 24
Daytona: Watch It! (all times ET)
2-4 p.m., Saturday, Jan. 24 (FOX)
4-8 p.m., Saturday, Jan. 24 (FOX Sports 2)
8-10 p.m., Saturday, Jan. 24 (FOX Sports 1)
10 p.m., Saturday, Jan. 24-7 a.m., Sunday, Jan. 25 (IMSA.com)
7 a.m.-2:30 p.m., Sunday, Jan. 25 (FOX Sports 1)