Samsung reveals key specs for its upcoming foldable smartphone
https://www.theverge.com/circuitbrea...-size-features
Samsung took the wraps off its new Infinity Flex Display device this morning, the first foldable hybrid gadget from the company that transforms from a phone into a tablet. Samsung says it plans to go into mass production for just the display in the "matter of months."
At a session this afternoon at its developer conference, Samsung did reveal some new information about the planned device, including pixel density, screen size, and aspect ratio in both the folded and unfolded modes: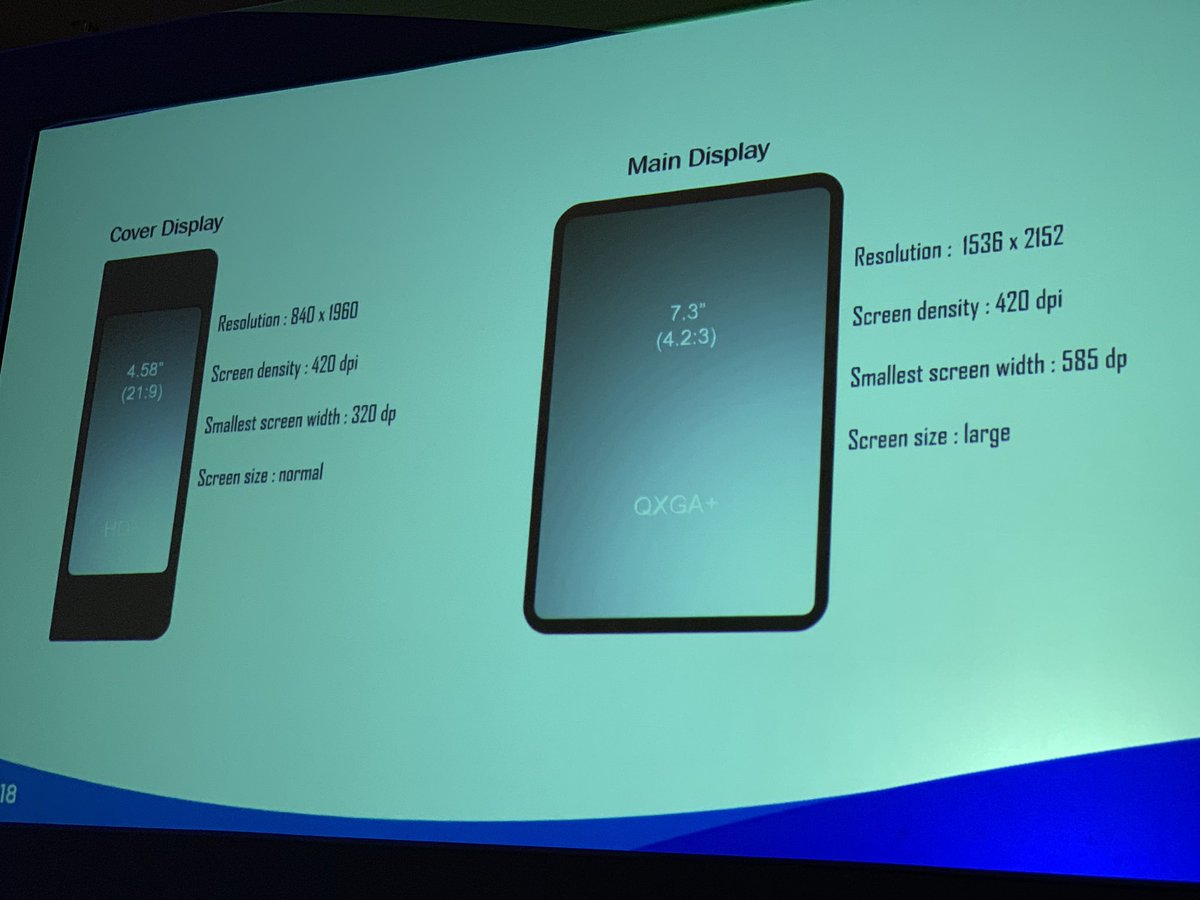 Pixel density is a standard 420 ppi, which is not the highest out there, but perfectly fine. Resolution when folded is 840 x 1960, but 1536 x 2152 when unfolded. The aspect ratios, however, are the more interesting specs here. The folded, phone version of the Infinity Flex has a 4.58-inch display with an aspect ratio of 21:9, which would make it pretty much the tallest device on the market and probably not the greatest screen for game-playing, video viewing, or anything like that. The unfolded, tablet version is clearly the primary mode for those types of activities, as it has a more standard 4.2:3 aspect ratio and a screen size of 7.3 inches.
News aggregation app Flipboard has already signed on to develop a special version of its app that modifies itself depending on which mode the Infinity Flex is running in:
Flipboard certainly won't be the only developer to sign on. Considering Samsung is launching a new, three-app multitasking feature it's calling Multi Active Window, it's likely at least some other big-name developers will jump at the chance to create responsive and modular versions of their mobile apps to be among first to capitalize on the foldable trend.
Samsung demonstrated a "disguised" device during its developer conference today, and dimmed the lights to protect elements of the design. "There's a device inside here," said Justin Denison, SVP of mobile product marketing. "And it is stunning."
Denison then showed a device that folded out into a tablet and back up into a candybar-like form factor. The device includes a cover display that acts as a phone, and a main 7.3-inch tablet display.