Barn Stall Owner #1776
NCM Supporter '11,'12,'13,'14,'15,'16,'17,'19,'20,'21
Bantayan Kids '13,'17

Points: 88,143, Level: 100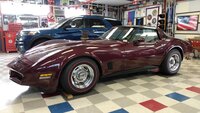 Join Date: Apr 2011
Posts: 15,400
Thanks: 5,730
Thanked 15,023 Times in 4,314 Posts
Gameroom Barn Bucks
: $2002001941

1993 Coupe Auto Torch Red
---
This is my son Nick's C4, This has been in his family since 1994 and it has been taken care of very well. It saw a year in my garage when he was deployed in the sandbox.

VIN: 1G1YY23P1P5118743, mileage 26,034, Torch Red, Auto, new tires, ready to go.
KBB private sale price is $12,000 for this very good condition Corvette.
Asking price: $12,000

Car is located near Bel Air, MD in the Forest Hill area.

pm me for contact info.